I meet most RCMP applicants at a very stressful time in their application process.
Their application has been processed.
They have completed the entrance exam.
And then they realize, sometimes days before their interview, that they've prepared for nearly every aspect of the application process, but they have no idea how to practice for the interview.
Studying for a test is easy enough; we all know how to study from our school days.
Training for an interview is not something most people know how to do, and it's also the reason so many people struggle with this phase of the RCMP application process.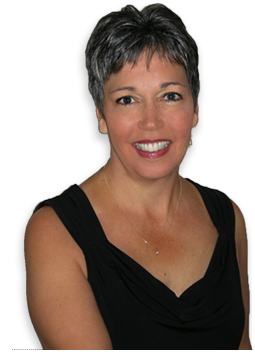 I'm Connie Clace.
With extensive experience conducting interviews, both as a manager and as a Human Resource Officer in the Federal Government, I have an in-depth knowledge of both conventional and competency-based interviews.
I have successfully coached clients from across the country in preparing for a variety of interviews, including RCMP, Police, Fire, medical and Federal Government, to name but a few.
As a Certified Professional Career Coach, having worked with many clients as they pursue a new job or promotion, my success rate for interview coaching is over 90%.
It is a clear choice for anyone looking to be successful in their interview.
Connie's career and coaching interviewing tips gets you the right delivery and structure for the interview. She helped me build my STAR examples and made them extraordinary, which convinced the interviewer to recommend me to the next step. Without this coaching, I don't think I would be writing this at the moment! She is so friendly and nice to work with; she is a clear choice for anyone preparing for the interview.
Alex, Ottawa
Are You Ready?
Do you know what questions you will be asked in your interview?  Are your examples from past experiences good enough to be used when answering behavioural based questions?
After years of successfully coaching clients through the RCMP interview, I have put my best advice, exercises and tips into a comprehensive workbook that you can use to prepare for the interview on your own time, for less than the price of a one-on-one coaching session.
Think of this as your workout plan for the interview. After you're done, you'll be in the best interview shape of your life.
This Interview Preparation Workbook is for you if:
You are committed to being successful during this phase of the RCMP application process.
You don't have a good understanding of what kinds of questions will be asked during the interview.
You are not sure what a competency-based interview is, and how to appropriately respond.
You have interview jitters or anxiety and need help getting over those nerves.
You aren't alone. Everyone who is preparing for a life-changing interview is worried about how well they will do. They feel extremely nervous about the whole process.
Everyone asks themselves the same questions:
Do I have the necessary skills that will allow me to demonstrate to the RCMP that I am the "right fit" for the job? What examples can I provide to show them I am the person they should hire?
What kinds of questions will I be asked? How will I answer them?
Will I be able to remember what I want to say when I am asked a question?
Will I ramble on and not know how to finish my response?
Proper Preparation is the Answer
Proper preparation can address all of these areas and give you the best possible opportunity to be the successful candidate.
After completing this workbook you will have:
a list, complete with definitions, of the eight competencies used by the RCMP to assess the attributes that are most important to them;
an understanding of the S*T*A*R principle, and learn how to formulate your answers to the behavioural based questions;
answered 16 sample interview questions that are similar to those that you may be asked during the RCMP "Right Fit" interview, using my tips and points you should consider when formulating your answers;
an understanding of the ARC model of answering Situational based questions;
learned a number of interview tips on how to best prepare yourself for the big day.
I passed the interview and I know I could never have done it without Connie
After being out of the workforce for nine years as a stay at home mom, and having done only two interviews in my 17 year career, I knew I would need assistance with the interview process. The type of interview I would be doing was based on competencies that required specific situations. Connie spent hours helping me hone my examples, even while she was on holiday out of Province! I was in awe of her knowledge and what she taught me to present my experiences well. I learnt SO much from her, I cannot thank her enough. I passed the interview and I know I could never have done it without Connie; she was truly instrumental in my success!
Michelle,  Montreal
Take Control of The Process
Clients, on average, may require on average two to six hours of coaching to properly prepare for a competency based interview. By completing this workbook, you can save hours of coaching time, by coming up with responses and personal examples on your own time, at your own pace.
But don't wait until you have an interview date to start working on this Workbook. Start preparing now, to ensure that you have enough time to formulate your answers, gather your examples or create new ones.
Remember, this is a great way to take control of the interview process, to help ensure that you are as prepared as you can be. This small investment now will provide you with the skills you need to prepare for the interview, which, if successful, will take you one step further on your journey to a lifelong career.
The Complete RCMP Interview Prep Package
Everything you need to do your very best during the RCMP "Right Fit" Interview.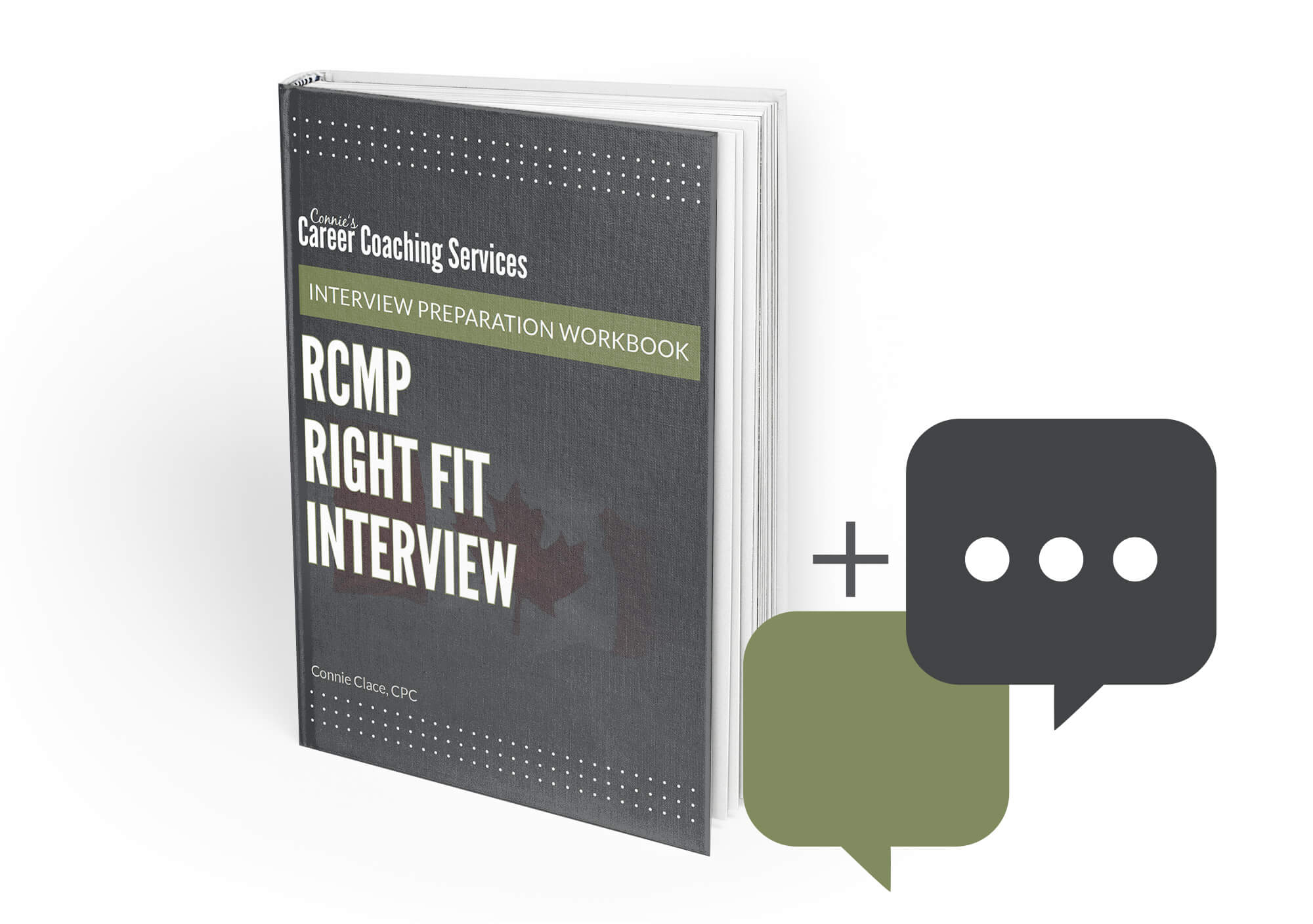 Workbook + 60-Minute Interview Coaching
The Complete RCMP Interview Prep Package contains everything you need to be successful.
After downloading, reading and completing the workbook, we'll schedule a 60-minute in person or Skype coaching session to review your answers and conduct a mock interview.
You'll receive specific feedback on your examples, delivery and body language.
You'll leave the session with a knowledge of how to continue preparing on your own and ways in which you can improve.
What's in the Workbook?
This workbook is laid out in five easy to read sections.
Section 1
A detailed overview of the eight competencies being assessed by the RCMP, complete with definitions.
Section 2
Competency-based interviews are conducted using two approaches.  Section 2 focuses on the Behavioural based questions, outlining what these questions are and how you should answer them.  This section assists you in structuring your answers using the S*T*A*R principle, which is the preferred RCMP format when answering behavioural based interview questions.
Section 3
Hypothetical situations are the basis for the situational based interview. In this workbook, you will be given detailed information on how to approach these types of questions, specifically using the ARC (Action, Reasoning, Considerations).
Section 4
You are provided 16 sample Behavioural based questions, allowing you an opportunity to come up with your own examples and use the workbook as the template for formulating your stories into the STAR model.
Section 5
Great responses and examples are only part of the battle when it comes to the interview. You need to be able to deliver them with confidence and display excellent communication skills, on the phone or in person. This final section of the workbook will give you practical life advice on how to improve your technique and delivery.  Remember, communication is one of the most common competencies, so it's important that you deliver your answers in a concise and organized fashion.
Frequently Asked Questions
Question 1: If I am doing a Behavioural Interview, why can't I just come up with experience examples for each competency instead of actually answering these questions?
Answer: Having examples ready that will speak to each competency is only the first step in preparing for the interview. Not only do you have to have examples prepared, but you must be able to use those examples to answer the questions that are posed by the interview board. This is something I hear from clients often. "I had a great example ready for this competency, but it doesn't answer the question." Using this Workbook will help you think about your examples in terms of a response to a question, and to take your examples and formulate them into an actual answer and not just a story.
Question 2: Will this help me with my interview nerves?
Answer: The biggest reason most people get nervous during an interview is that they are not feeling prepared. Taking the time to complete this Workbook will help you develop good answers and experiences and articulate them in an organized manner. It also provides tips and tricks for being at an interview. Following through with the entire Workbook will help you be more prepared, which will make you feel more confident, and ultimately help relieve those nerves.
Question 3: Will this help me improve my interview techniques?
Answer: Once you have completed this Workbook, by answering the 16 Behavioural based questions, and reading the Tips and Tricks section, you can practice delivering your answers. A good trick is to have someone videotape you, which will get you comfortable speaking in front of an audience, and also allow you to play it back and see how you did.
Question 4: Will anything be mailed to me?
Answer: No. The workbook is a downloadable PDF so you can begin prepping for the interview immediately after your purchase is complete. A download link will be sent to the email you provide at purchase along with further instructions to set up your coaching time if you purchased The Complete Interview Prep Package. If you are unfamiliar with viewing digital PDF documents, further instructions are provided with the download.
100% Money Back Guarantee
Although I cannot guarantee you will pass your interview, I can guarantee that this Workbook will exceed your expectations and provide you with the tools and techniques you need to do your very best. If you're unhappy with your purchase for any reason, please contact me within 14 days of purchase and you will receive a complete refund.
2021 © Career Coaching Services